Choosing The Best 4K Projector To Buy With A Budget Of $2,000–$3,000
By XGIMI Tech - 2022-03
Introduction
If you want to buy a projector between $2000 and $3000, then a great 4K ultra short throw projector should be your first port of call. Ultra short throw projectors hold so much promise, fitting for whatever prices they command. With a $2000 - $3000 budget, you can solve the two-headed problem of space limitations and a TV replacement in one fell swoop with a UST laser projector. These projectors can deliver a luxurious cinematic experience in the home, giving you an excellent private home theater, which is worthy of their price.
Ultra short throw projectors are typically powerful. They have robust features that deliver an excellent viewing experience in varying conditions/settings, leveraging laser projection technology to produce great images with little space to work with. These smart projectors are designed to get you up and going in no time with features like intelligent screen adaptation and bring endless entertainment to homes as they have multiple connectivity options. They often sport excellent imaging features like 4K resolution, great sound from built-in speakers, and run on Android TV, which puts all your favorite content at your fingertips.
What is Ultra Short Throw Projection?
The technology behind ultra short throw projection is advanced, and devices with this kind of projection use wide-angle lenses and mirrors to produce a widescreen display from a short distance. With ultra short throw technology, projectors no longer need to cast their image onto a screen from a far distance. Projectors can now achieve wide displays of over 100" from a distance of 3–20 inches away from the screen/wall, perfect for tight spaces and do not need much room to operate.
Most UST projectors achieve their projection using lasers, which explains why they are sometimes called laser projectors. They are perfect for enclosed places when space is an issue and perform exceptionally in living rooms, classrooms, etc. A 4K ultra short throw projector is great for home theaters, as they can give you even wider displays than TVs (up to 120"), excellent sound, and outstanding imaging features.
Also, in rooms where movements in front of the screen will obstruct the display, ultra short throw projectors eliminate that problem as they are mounted inches away from the screen or wall. If you plan to set up a home theater, and do not have much space to spare, mounting a 4K ultra short throw projector about 12 inches away from the wall can deliver a 120-inch display. The major advantage UST projectors have over their short throw and long throw counterparts is flexibility. Short throw laser projectors need more distance, up to 3-4 feet, to create a 100" image, while long throw projection is the least flexible and needs a lot of space to deliver a widescreen display.
Additionally, most UST projectors are powered by lasers; hence, they can boast higher longevity than projectors that use bulbs or LEDs. They boast a lifespan of up to 20,000 hours, needing little or no maintenance throughout their lifetime. The laser projection technology also gives them additional brightness capabilities, ensuring a bright and clear projection even in spaces awash with ambient light.
Choosing The Best 4K Ultra Short Throw Projector
If you are out shopping for the best ultra short throw projector, the following factors could help guide your decision-making:
Resolution:

Low-resolution displays would do a disservice to whatever content you intend to use the projector for. With over $2,000, a projector with 4K UHD resolution should be the target, with which you can enjoy high image quality and a more detailed display.

Ample Brightness:

You need a projector to produce an image bright enough to compete with a wash of ambient light. 2200–2400 ANSI lumens brightness is sufficient for large bright displays in well-lit rooms, like auditoriums or a living room home theater setup.

Built-in Speakers:

When you buy a projector for over $2,000, having to spend more on external sound systems may be too much to ask. It would be best if you considered going for a projector that comes with built-in speakers that deliver excellent sound quality.

Large Screen:

UST projectors are generally capable of widescreen displays. Displays between 80" and 120" are ideal for home theater or other settings and should be factored into your eventual choice. With widescreen displays, you can enjoy larger images, see details better, and bring a cinema-like experience to your home.

Flexibility:

Ultra short throw projectors are of different sizes and designs. When choosing, designs that fit your home decor should be favored. UST projectors can easily take a fixed spot and occupy much less space than a TV in your home.

Multiple Connectivity Options:

When you have several options to project content from, it gives your projector added flexibility and provides a broader range of entertainment for you. With HDMI ports, you can connect computers and game consoles to your projector. USB ports allow you to project content from hard drives and flash drives, which is good for watching pre-downloaded content. It would be best to consider WiFi and Bluetooth support plus LAN and audio jack (3.5mm) availability.

Built-in Entertainment:

Yet more entertainment options are available to you if your projector runs on Android TV. You get access to thousands of apps like Disney+, Hulu, and HBO Max, and you can stream your favorite TV shows and movies and access your Android apps.
The XGIMI AURA is a 4K ultra short throw laser projector, and it costs $2,499, which is a fair price for a laser projector with professional features. With AURA, you can create a luxurious private home theater experience as it boasts features powerful enough to match an experience in cinemas. AURA is one of the best ultra short throw projectors you can find at these prices, considering the excellence it is capable of producing. Fitted with dual Harman Kardon speakers, XGIMI AURA delivers rich, room-filling sound that gives you an immersive experience.

XGIMI AURA has an ultra short throw projection capable of producing a 120" image from 11.7" away from the wall or screen. Laser projection technology gives the display a bright edge, and the ultra short throw capability makes the projector an excellent choice in tight spaces. AURA can achieve true 4K UHD resolution with 8.3 million pixels for better detailed, vivid images and a crisp, clear display— darker blacks and whiter whites.

The 4K ultra short throw projector comes with a brightness of 2400 ANSI lumens, making it capable of delivering bright and clear displays even in rooms awash with ambient light. AURA also comes with the X-VUE 2.0 Image Engine for color revivification to give you more pronounced lifelike colors. The motion compensation technology, MEMC, delivers super-low latency rates with a 60Hz refresh rate that eliminates image blur and delivers a crystal-clear display even in fast-paced content like sports, action movies, and video games.

Also, XGIMI AURA features multiple connectivity ports, giving you numerous alternatives to project your favorite content. 3× HDMI ports for connecting laptops and gaming consoles, 3× USB ports to support streaming from flash drives and hard drives, 1× LAN, and 1× headphone jack (3.5mm) for connecting headphones and audio outputs. The ultra short throw projector is compatible with WiFi. It comes with Bluetooth 5.0 for added connectivity options, helping you connect to the internet or smart devices and stream music via Bluetooth.

XGIMI AURA features Chromecast built-in for streaming/casting from Android or iOS devices, giving you even more connectivity options. With AURA, users can access a whole world of entertainment as the UST projector runs on Android TV™, delivering over 5,000 apps, including Hulu, YouTube, and Disney+ for your maximum entertainment.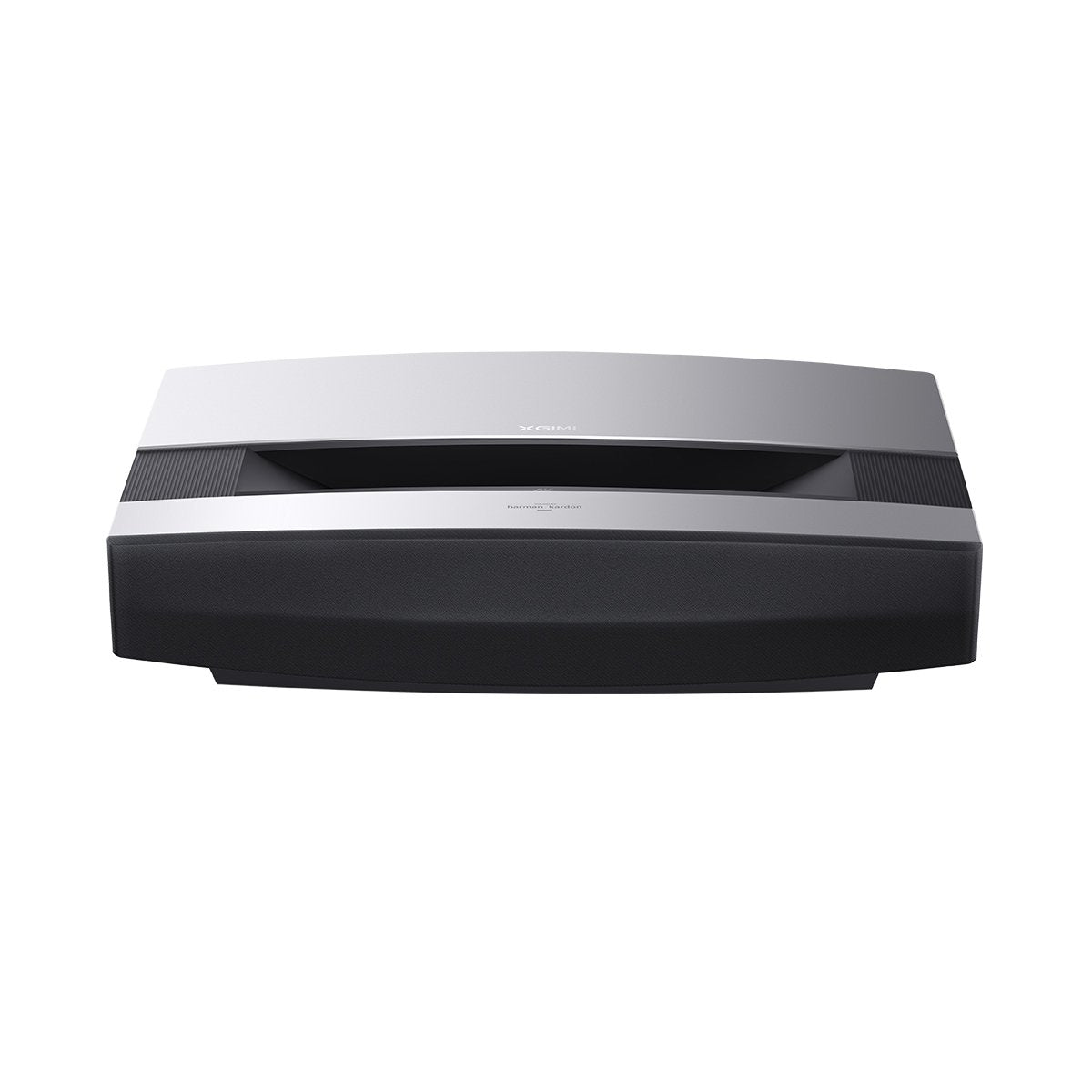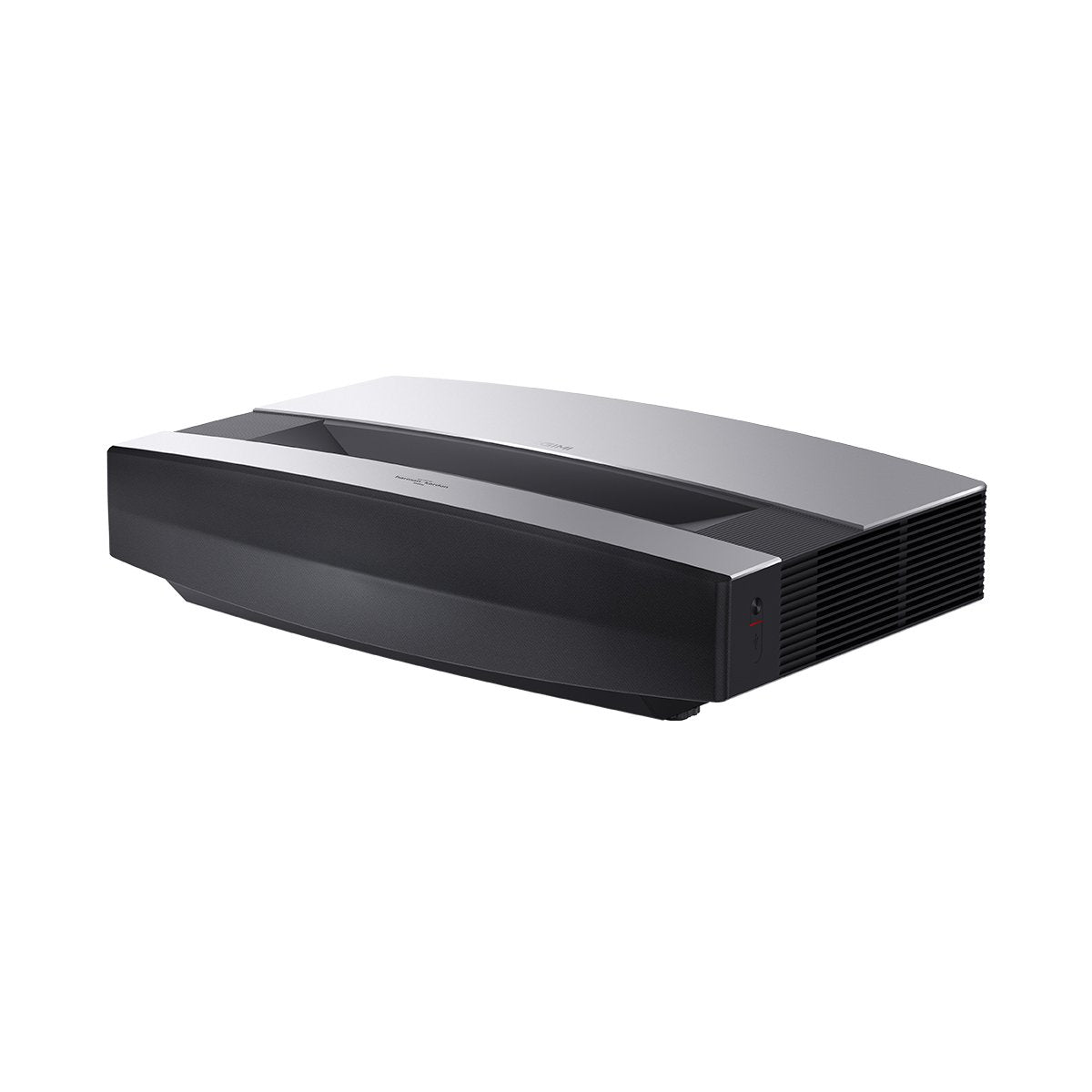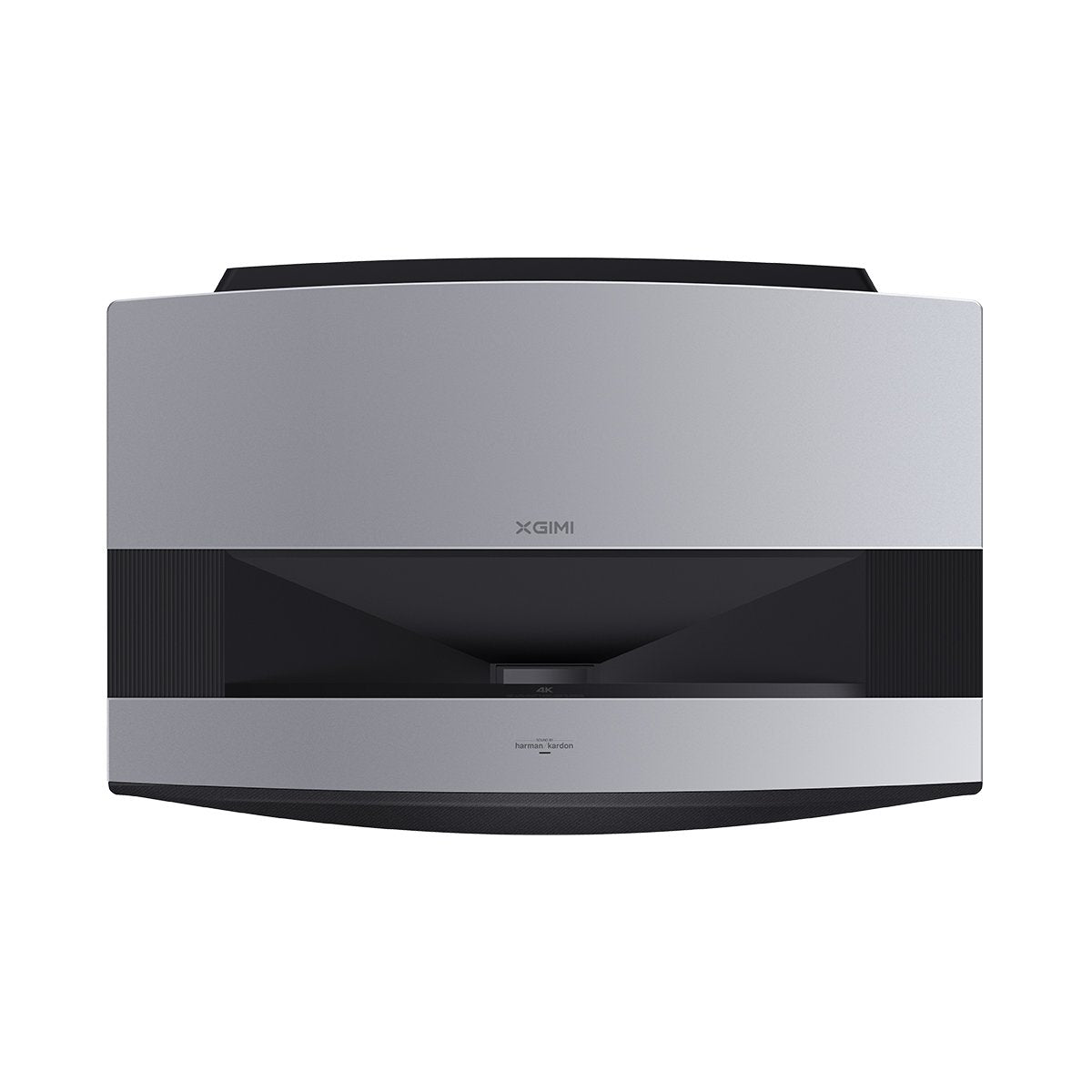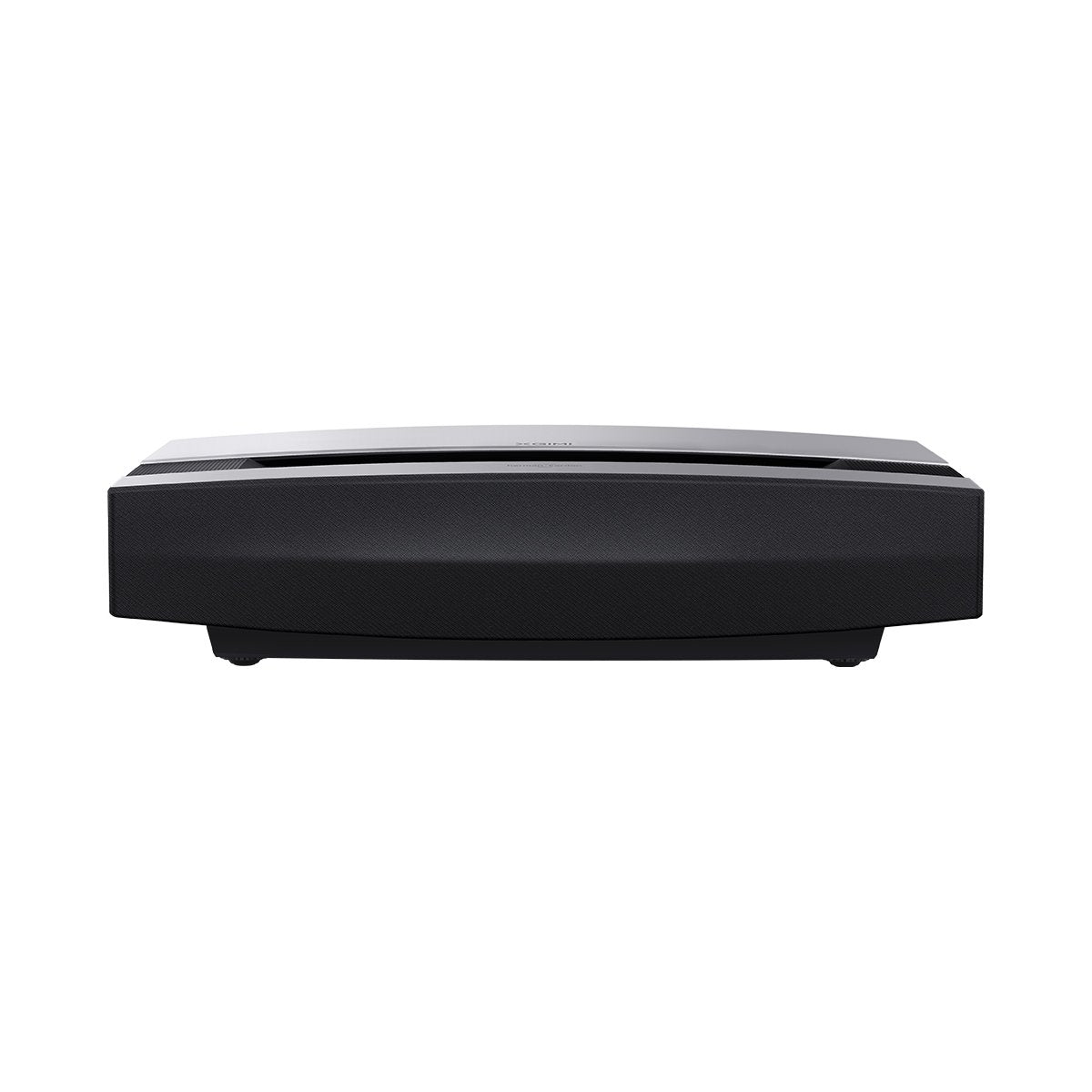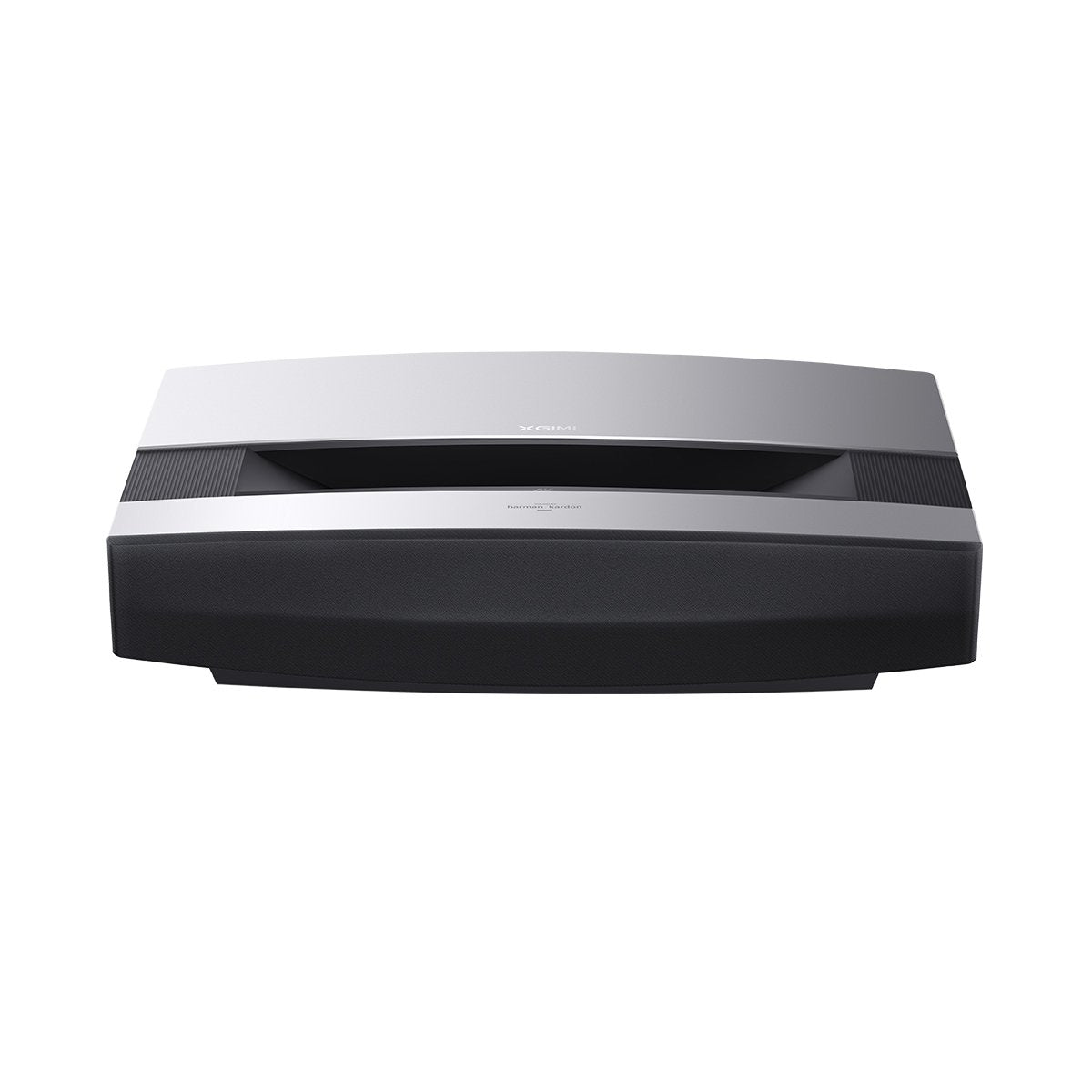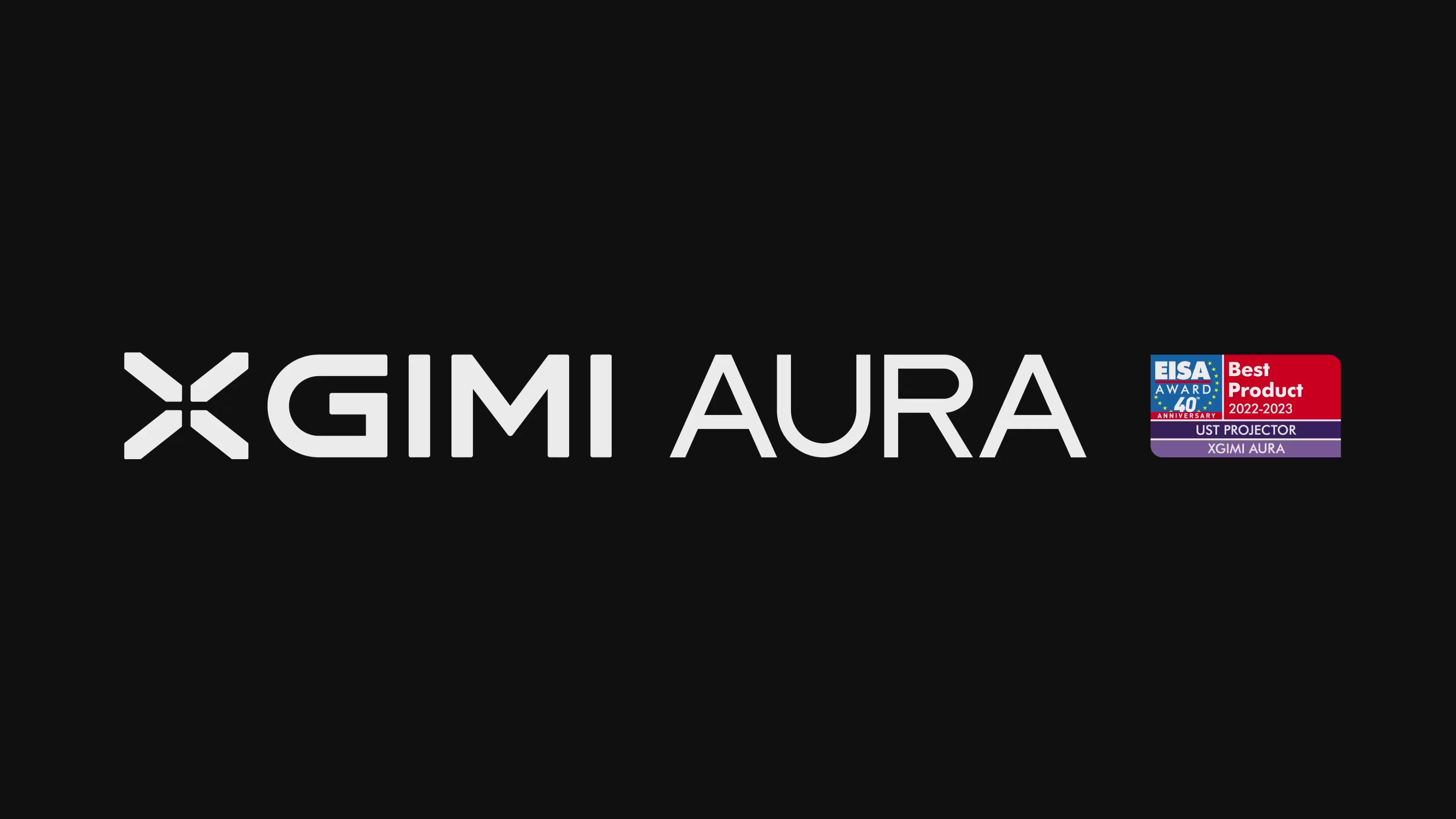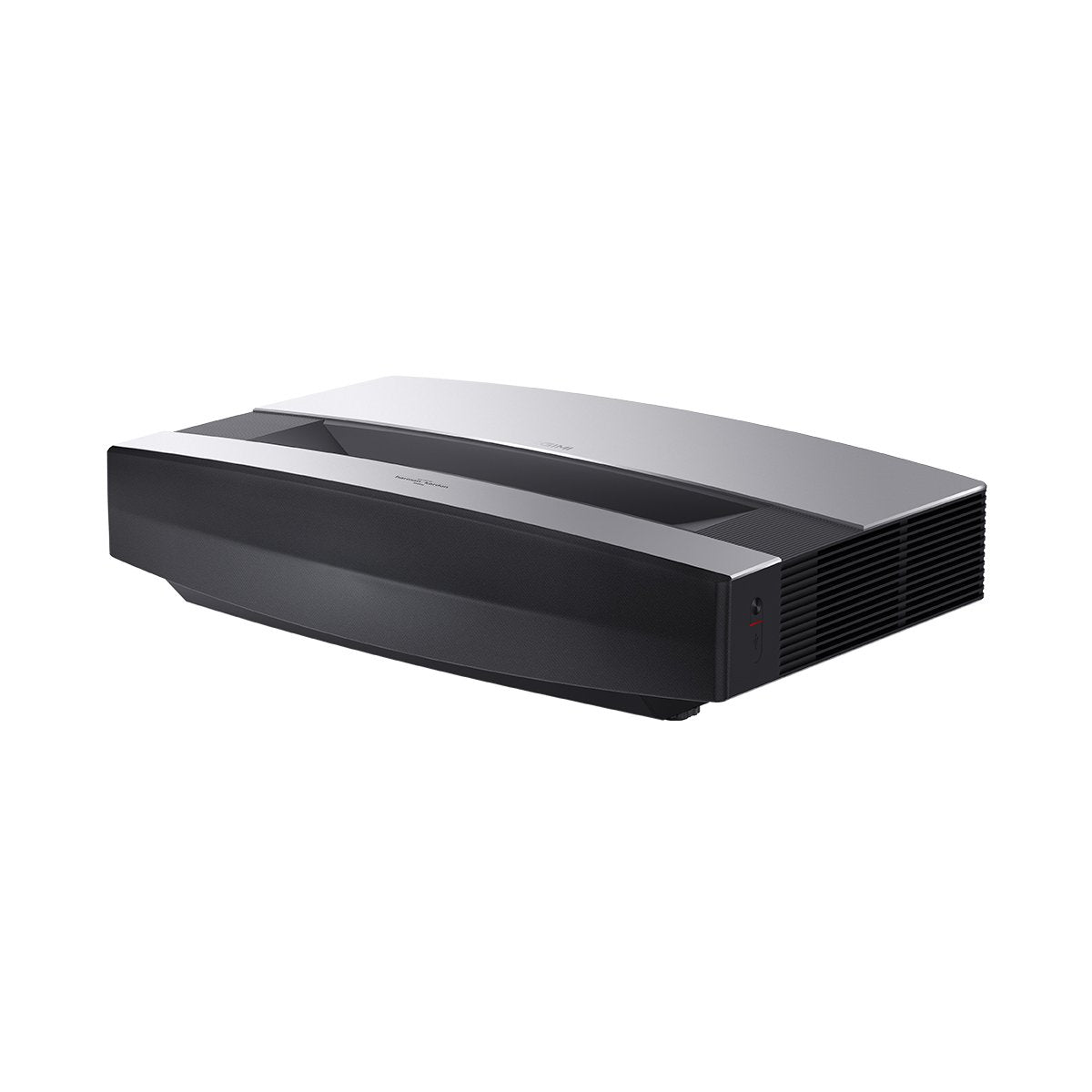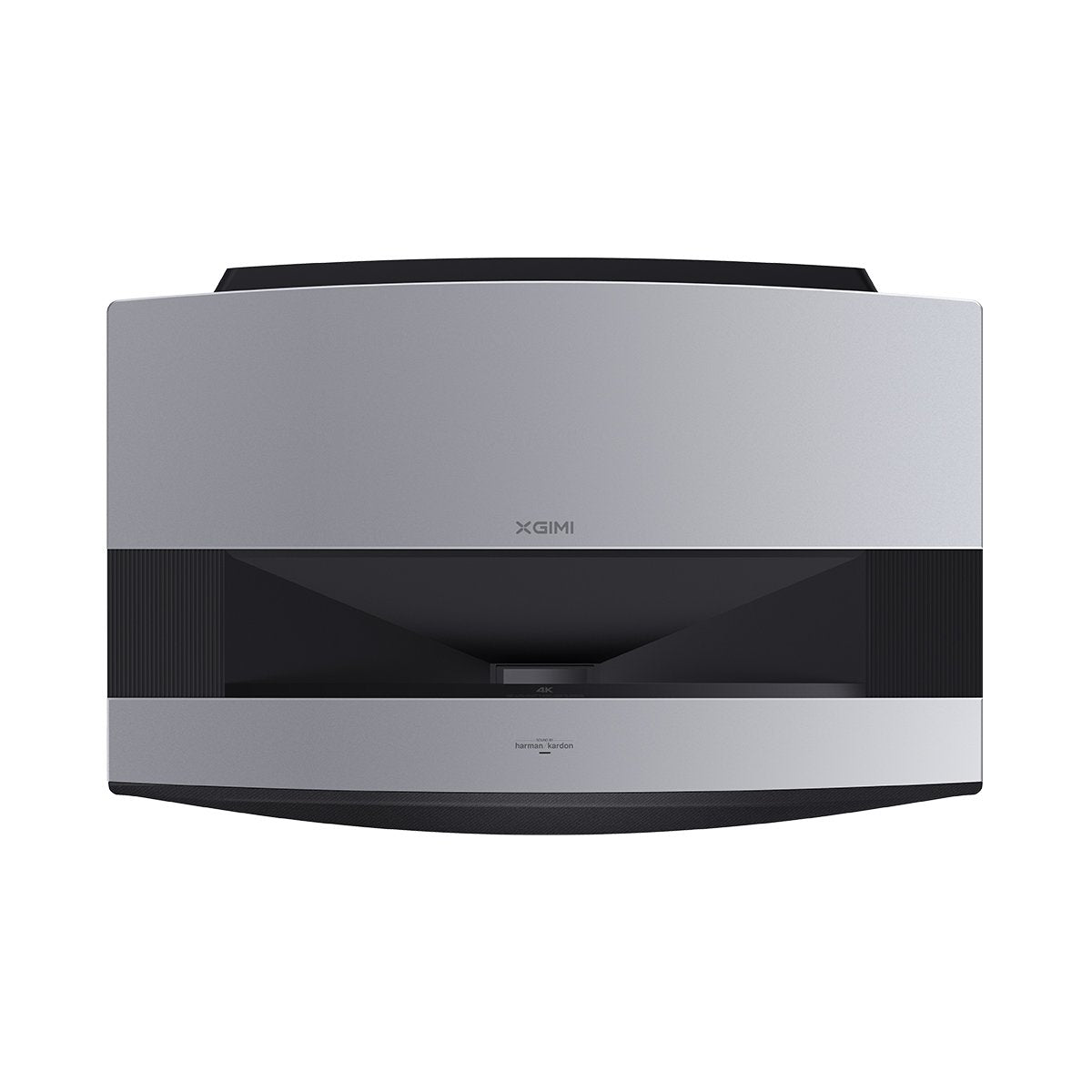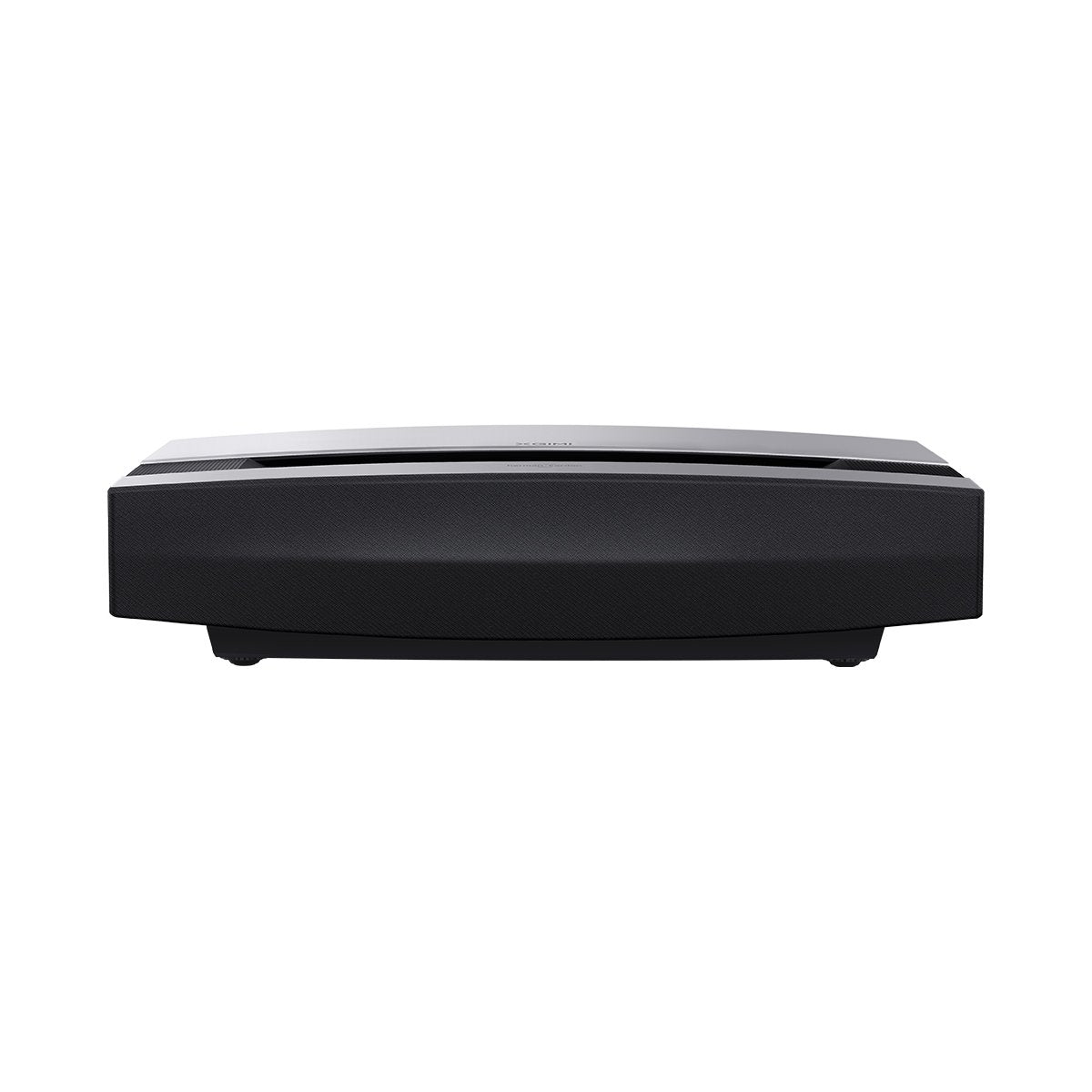 Conclusion
Ultra short throw laser projectors are a great option for projectors that cost $2,000+. They come with an abundance of features, have powerful display capabilities, and are flexible as they are perfect for tight spaces in living rooms, classrooms, auditoriums, and TV replacements. You can learn more about why you should choose a laser projector here.
With over 2,000 dollars, one can get an excellent UST projector to deliver a wholesome entertainment experience. Yet, there are certain factors you should consider when on the lookout for the ideal $2,000+ projector. A resolution of 4K UHD, the brightness of over 2,400 ANSI lumens, built-in speakers, large screen (60–120 inches), extended connectivity options, Android TV, etc.
XGIMI AURA is one of the best 4K ultra short throw laser projectors. It comes with 4K UHD resolution, built-in Harman Kardon speakers, MEMC, a brightness of 2400 ANSI lumens, and most importantly, ultra short throw laser projection, amongst other features. AURA also runs on Android TV™ to give you wholesome entertainment at your fingertips.
Get £10 off Your Next Purchase
Join the XGIMI Community Today!