HORIZON Pro
---
True 4K Technology: Decorate any room with breathtaking 4K UHD displayed enormously on a 200" screen.
Bright 1500 ISO Lumens

: Ultra-bright projection that delivers incredibly sharp and detailed imagery any time of day.

Powerful Sound

: Dual 8W built-in Harman Kardon speakers deliver cinematic sound effects without needing external soundbars.

ISA Technology

: Automated screen alignment, focus, and obstacle avoidance ensure that your viewing experience goes uninterrupted.

Android TV™: Endless entertainment from popular streaming apps like Hulu, Prime Video, and Disney+ is at your fingertips.
---
Shipping Tip
Shipping begins within 3-7 days
---
---
---
30-Day Money-BackGuarantee
12-month Hassle-Free Warranty
---
The Future Has Never Looked Clearer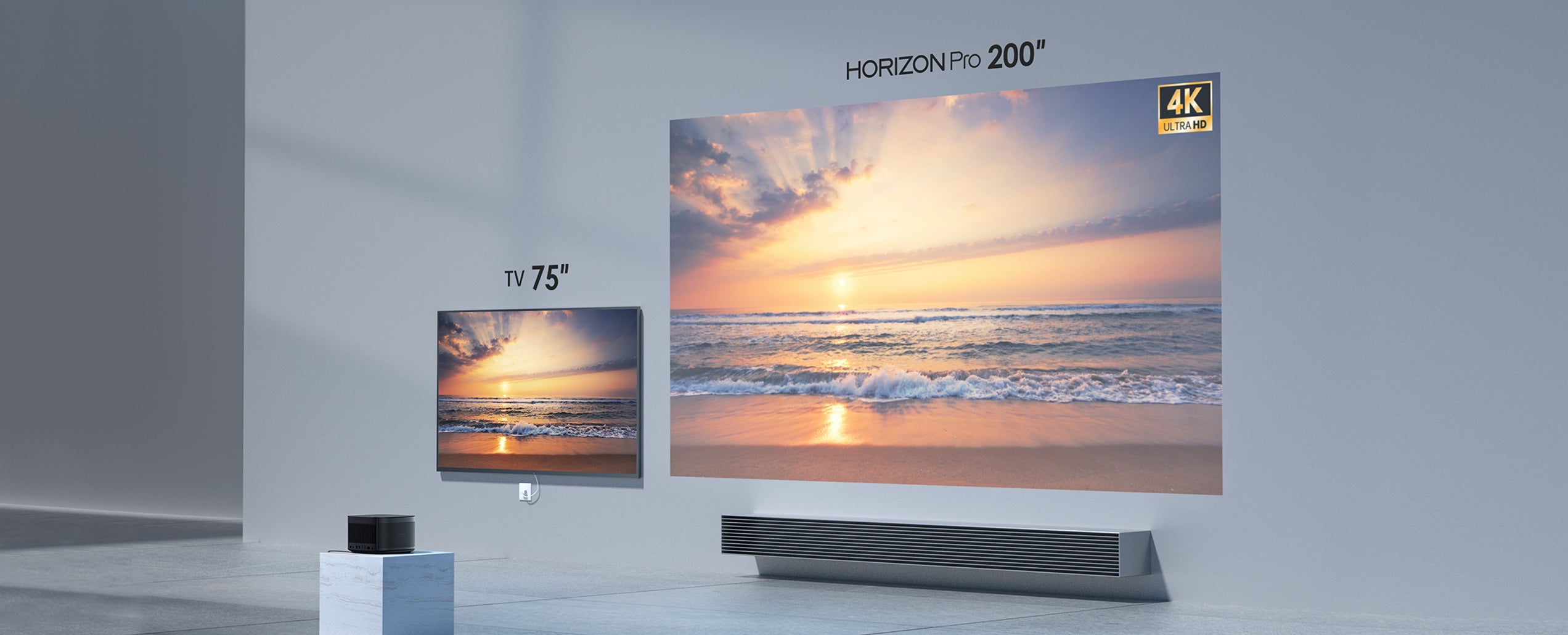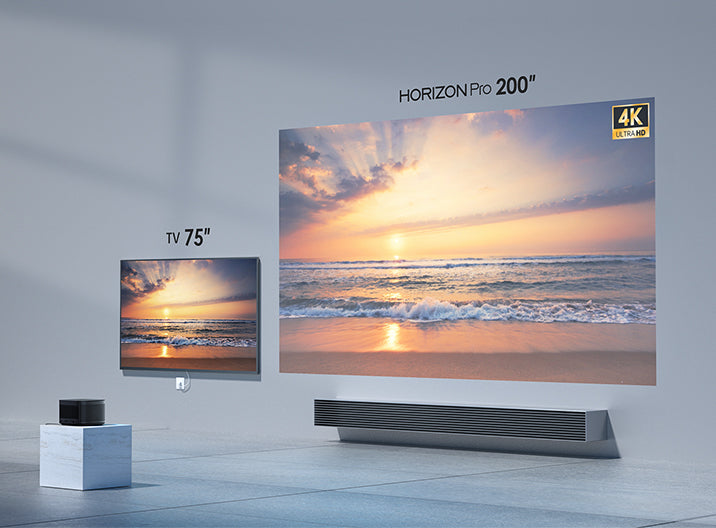 We've Always Been Bright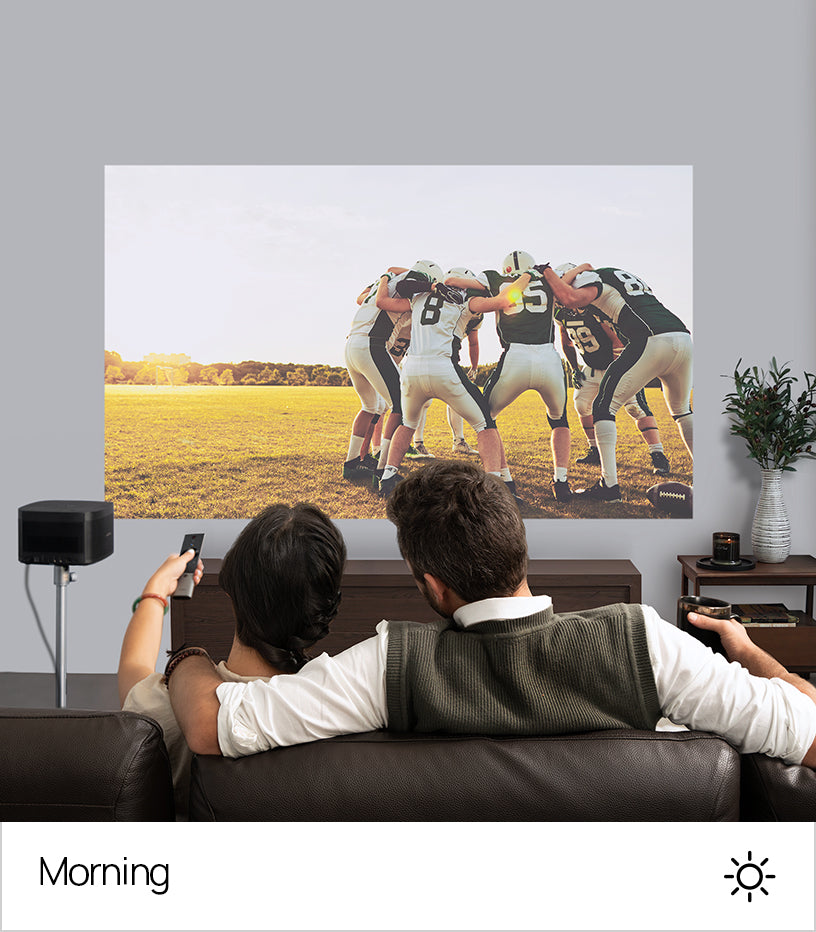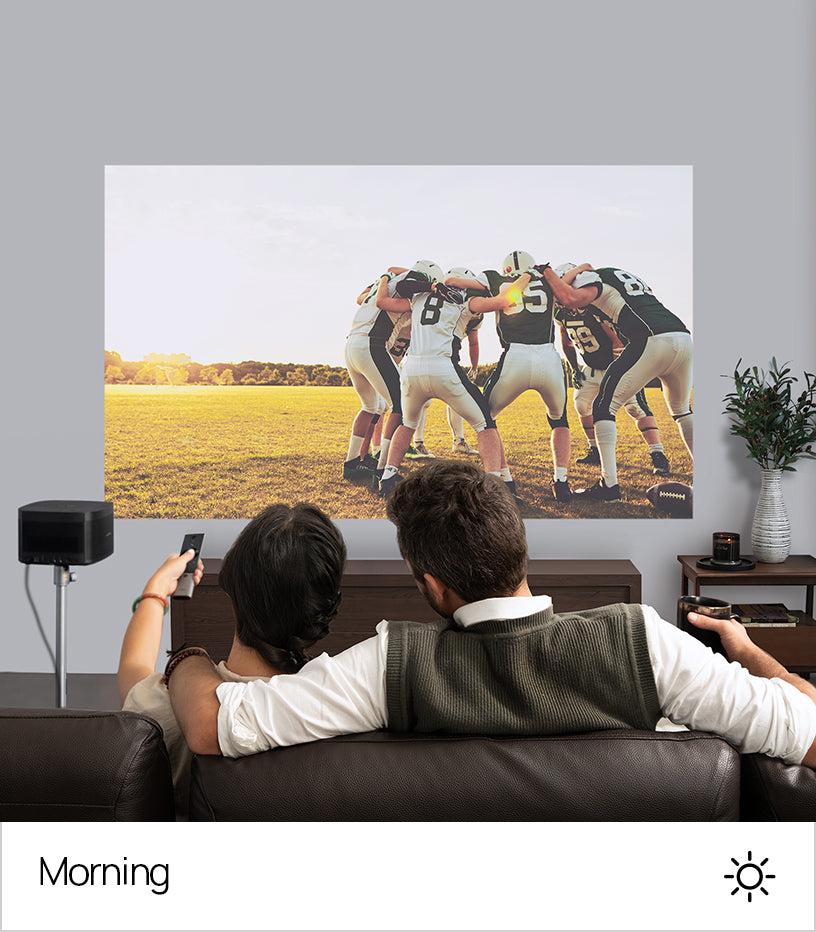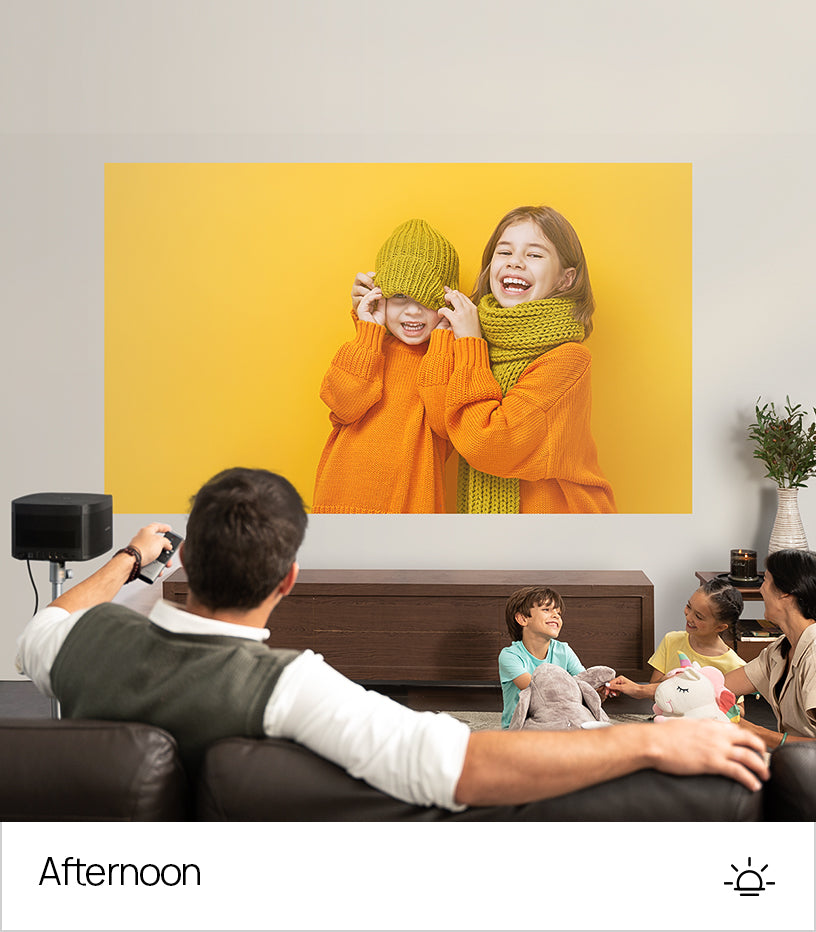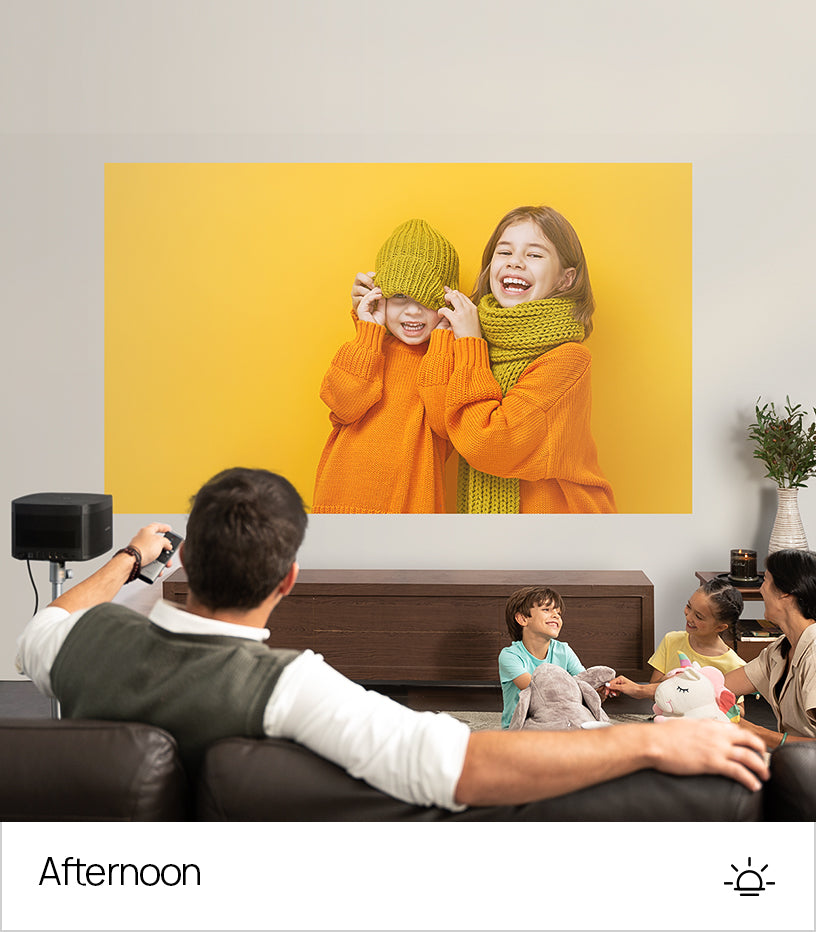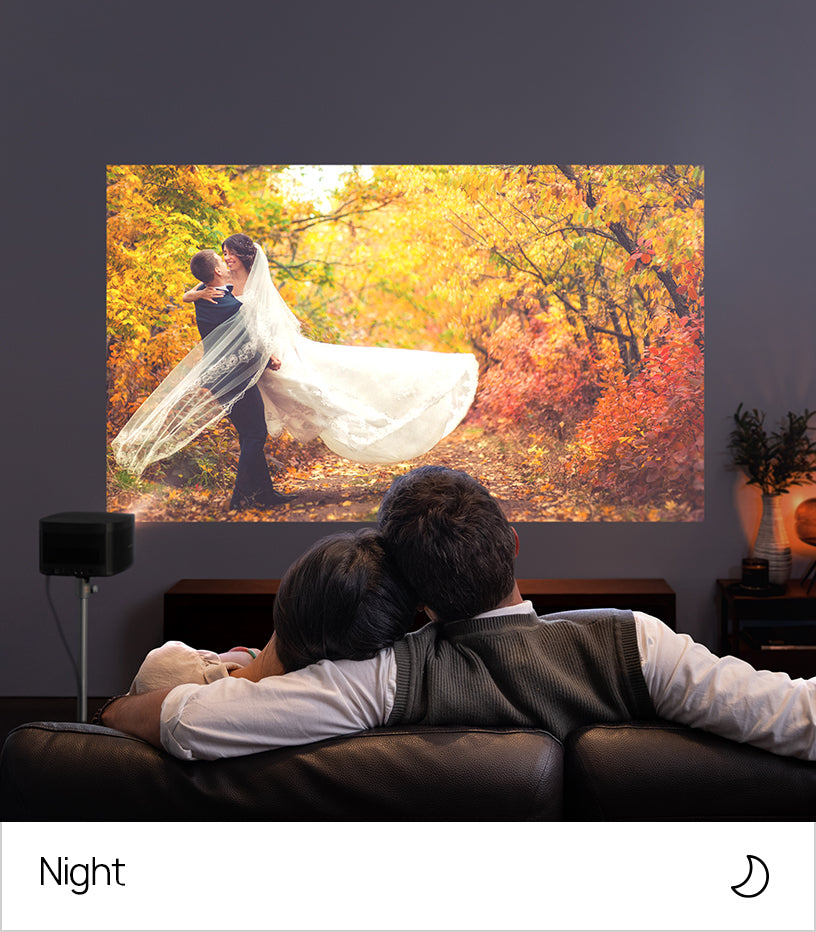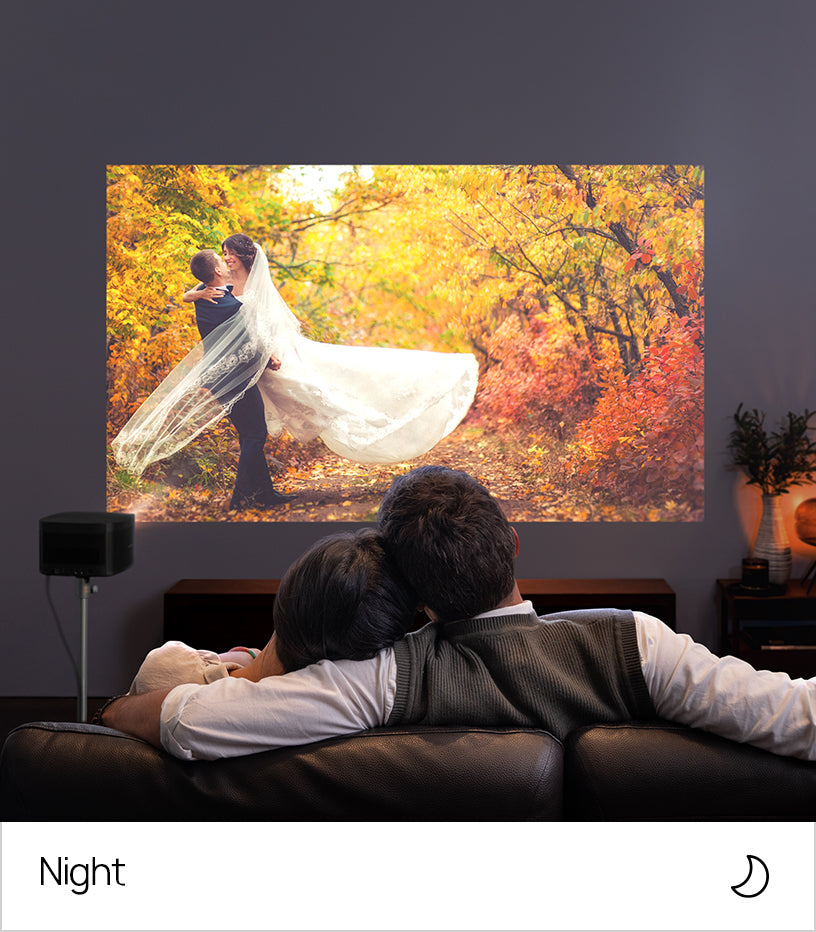 Hear Every Note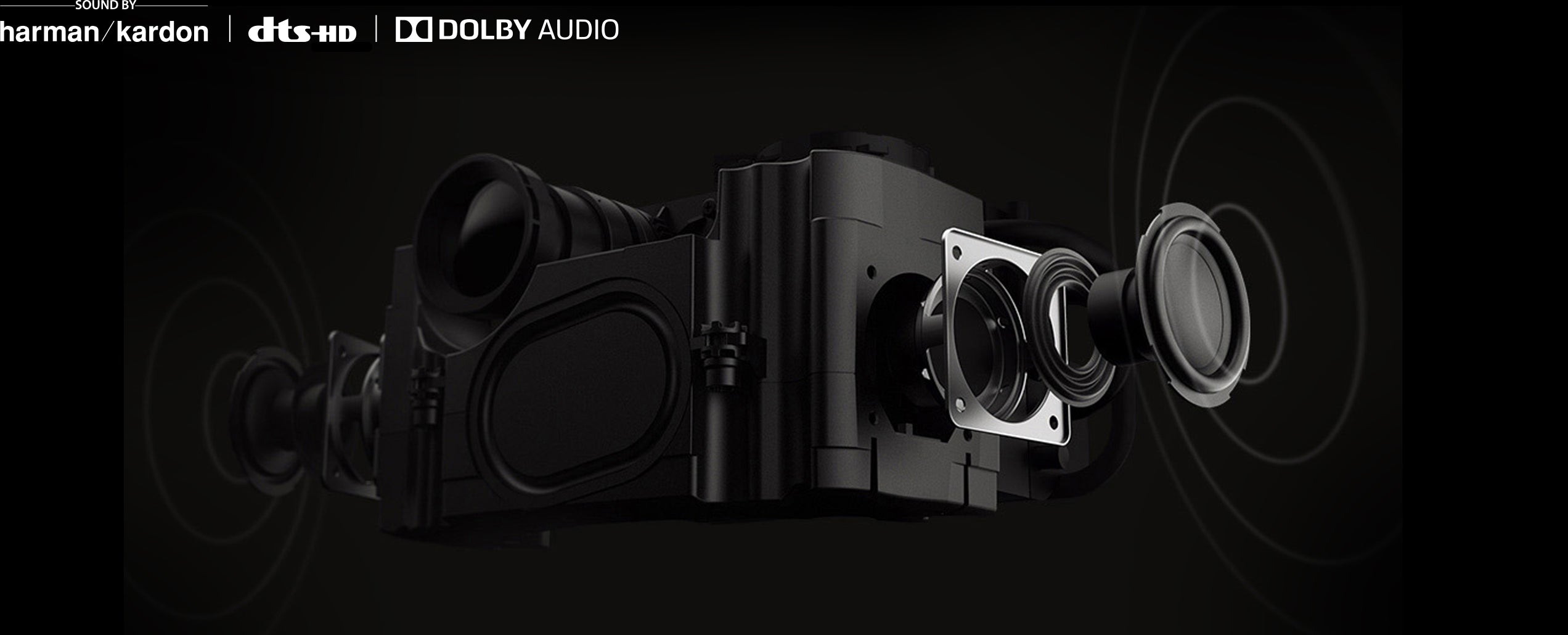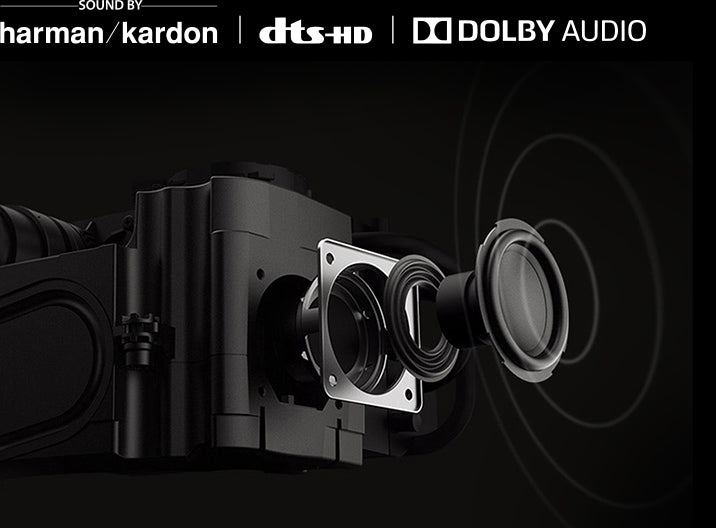 Transform Your World In Seconds
Intelligent Screen Alignment
Avoid the stress of positioning your projector perfectly. Thanks to Intelligent Screen Alignment, HORIZON Pro automatically matches its projected image with your screen, regardless of the size.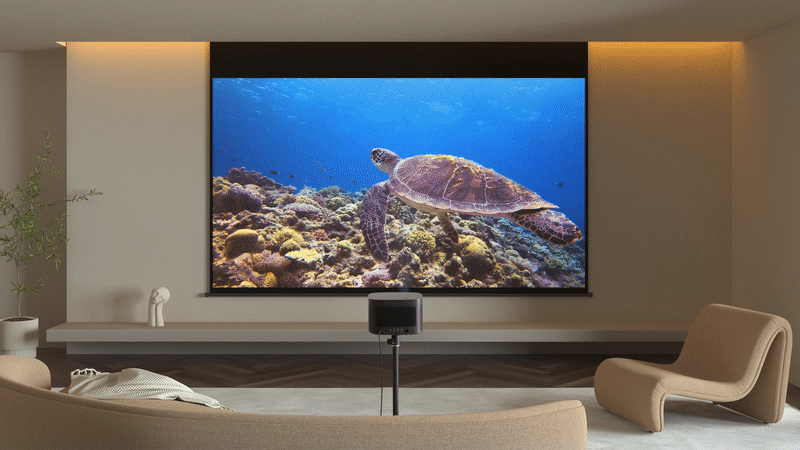 Auto Keystone Correction grants you more flexibility when fitting HORIZON Pro into your home. Set up your HORIZON Pro from the side or at +/-40 degree vertical/horizontal angles and get a square image automatically.3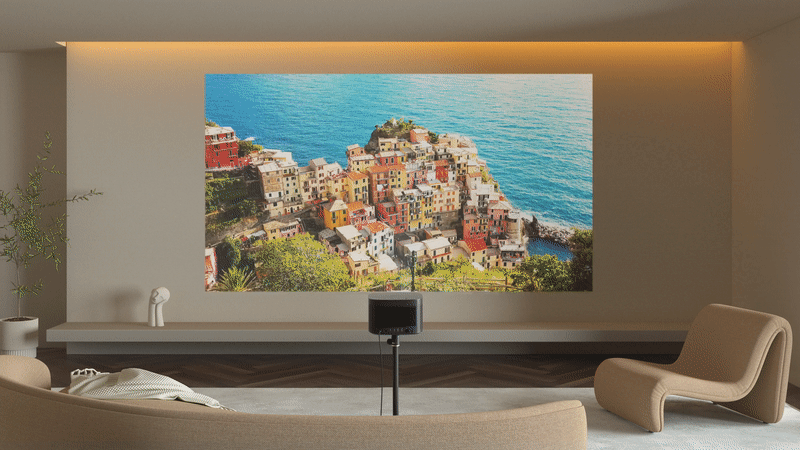 Intelligent Obstacle Avoidance
Outlets, paintings, and even plants are no longer an issue. Instead of having to reorganize your living space, sit back and let HORIZON Pro's Intelligent Obstacle Avoidance automatically scale the image around objects in view.
Auto Focus ensures you spend more time watching and less time adjusting. Enjoy an image that stays vivid and clear without you lifting a finger.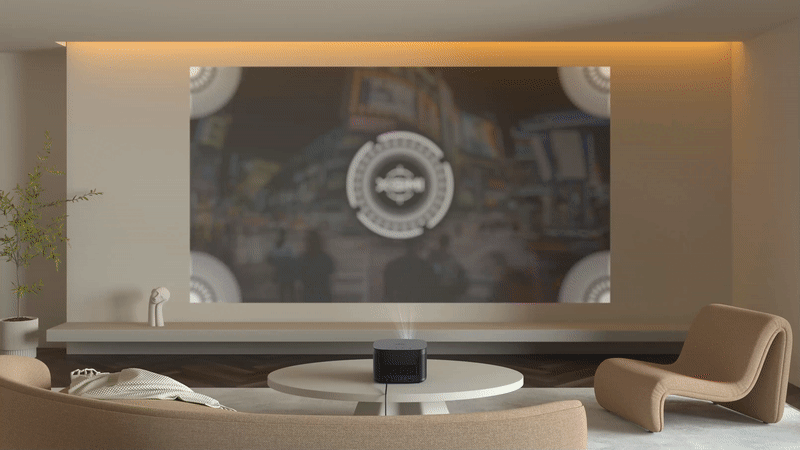 Let's Answer Your Questions
FAQ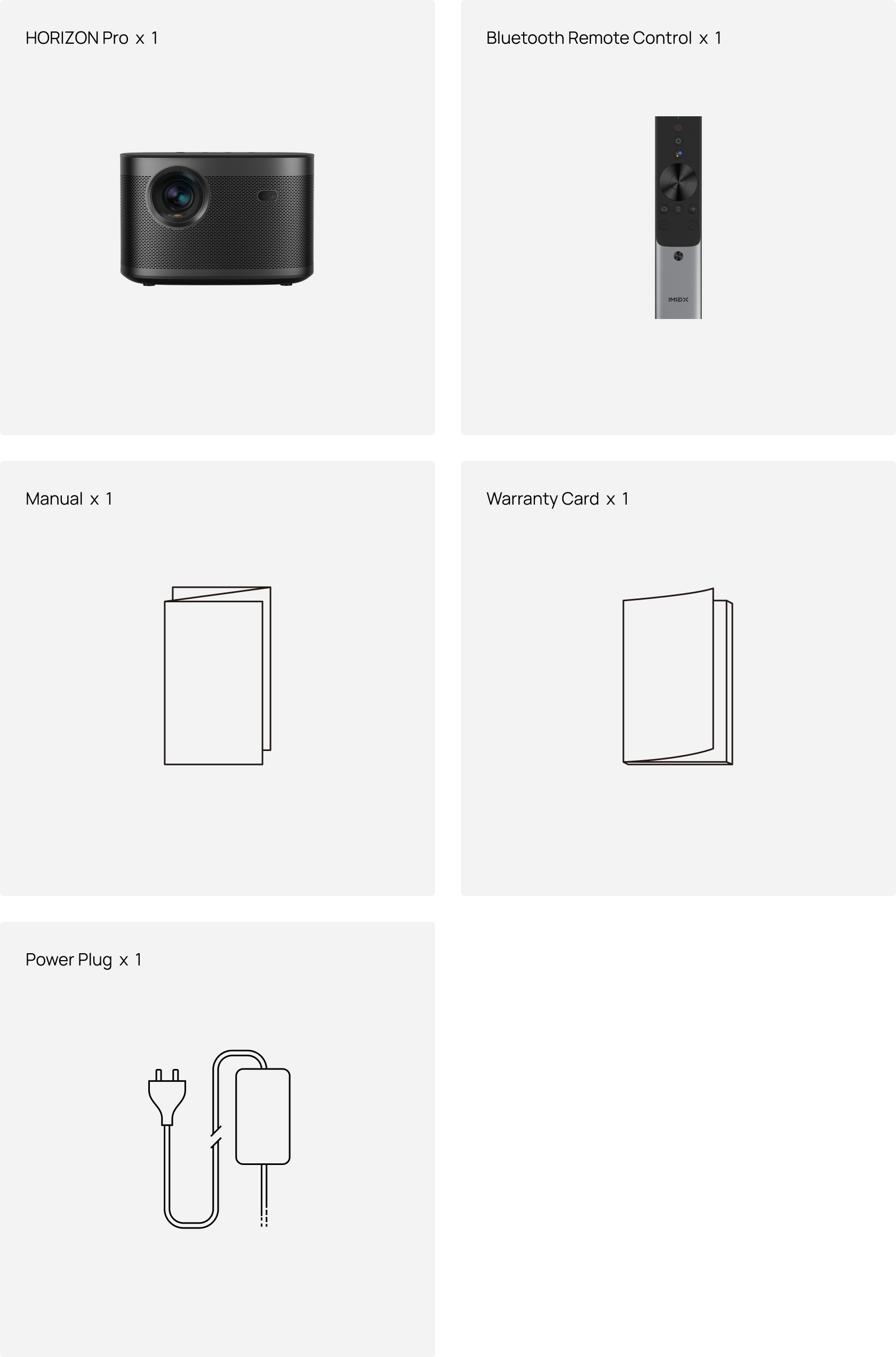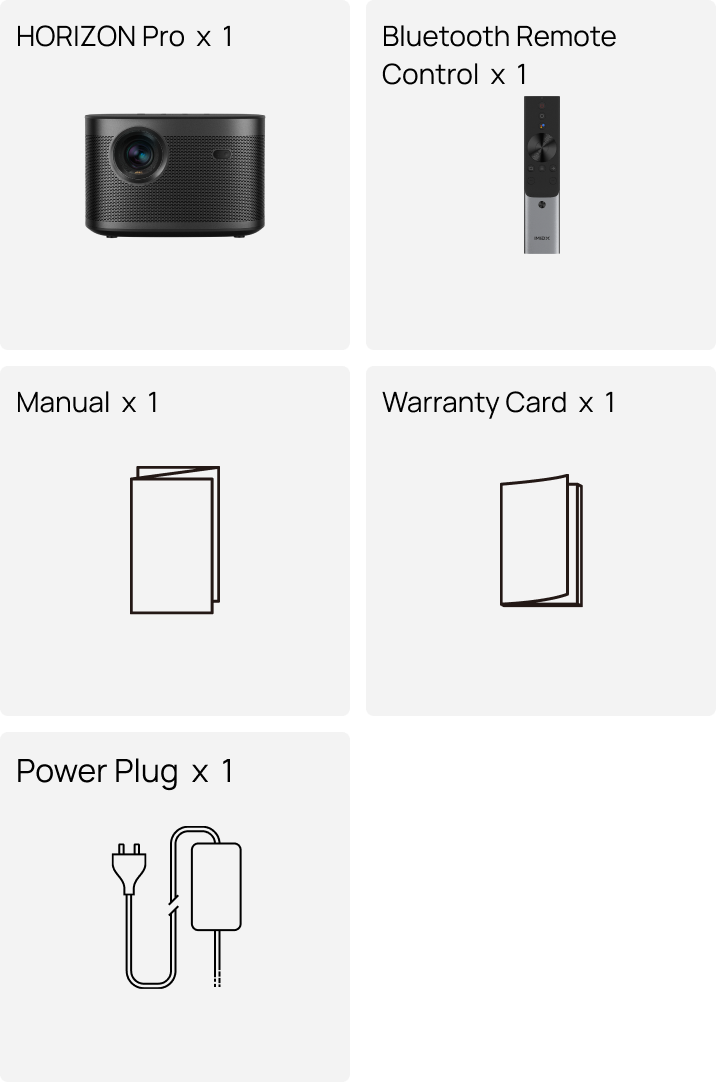 HORIZON Pro
Compare Home Theater Projectors
Display
Product Classification
Home Projector
Supported Formats
HDR10, HLG
Standard Resolution
3840 x 2160 pixels
Lens
High Light Transmission Coated Lens
3D
Yes, Frame Packing & Side by Side
Projection
Auto Keystone Correction
3
Yes
Intelligent Screen Alignment
Yes
Intelligent Obstacle Avoidance
Yes
Projection Method
Front, Rear, Front Ceiling, Rear Ceiling
Audio
Speaker
2 x 8W Harman/Kardon
Dolby Digital Plus (DD+)
Yes
System
Mirroring Display
Chromecast built-in/Airscreen
Connectivity
Input Ports
DC x 1
HDMI x 1, HDMI (EARC Supported) x 1
USB x 2
LAN x 1
Output Ports
Headphone x 1 (3.5mm)
OPTICAL x 1
WiFi
Dual-band 2.4/5GHz, 802.11a/b/g/n/ac
6
Bluetooth
Bluetooth 5.0/BLE
Electrical
Power
AC100-240V, 50/60Hz(250.04W)
Measurements
Product Size (H x W x D)
208.4 x 218.4 x 136.2mm
12
Great quality projector!
I'm new to this field but have been into tech for many years, just never bothered with projectors till now. I looked at many different models and was prepared to spend 4 thousand pounds if needed, it was mind blowing trying to decide! Then I thought I would use my experience in buying tech and go for this being on offer at the time and middle of the price range, thinking I would return if not good and learn something to maybe help me later on. Wow wow wow...is all I will say.....if you aren't happy with this projector you will not be happy with anything! It is astonishing the quality you can get for the money, I didn't get a fancy ALR (1 grand plus) screen either. I used my own judgement and bought 1 for £130, not a cheap polyester cloth (bed sheet) lol. IMy common sense was telling me they wouldn't be any good! I cannot promote this projector enough, why spend a lot more to get abit better, if you haven't learned by now VFM is what it's all about and this is the king of it! Hope this helps someone to make a great purchase 👍
Horizon Pro a great projector (again) from Xgimi
I have the Xgimi Elfin, as a first stab at home theatre and I love it, but it was time to see what could really be done with an upgrade to 4K and a much brighter projector. I have not been disappointed, easy setup, software is even better (and it was extremely good on the Elfin). If you have android, setup is very easy and pretty much automatic if you scan an on screen QR and accept a few prompts.Picture Quality is fantastic HD, 4K etc.. is good, it must upscale the HD very well because it looks even better than on the native HD Elfin. The Elfin was quiet but the Horizon Pro is near silent. I had considered the Nebula Cosmos, but am so pleased I went for this. The other reason was the 1.21 throw, which means I could get a nice large image (100") in the same place I had the Elfin. The Nebula cosmos would have only produced am 88" image with it's longer throw.I haven't tried the sound because I actually use a soundbar on the floor so the sound is coming from the same place as the image...Some tips...get the Xgimi dongle, in the deal I had it was included free....powered from the Xgimis USB port and set up so the dongle can be controlled via the HDMI allows you to control the dongle from the main Xgimi remote! The dongle has, or can have installed, Netflix, Amazon Prime, Disney etc.. etc.. on it. By connecting it in the way described, the projector will boot, then the dongle boots and it auto flips to the dongle...After that the experience is seamless. (and the dongle remote can be stored in a draw).If you don't want to shell out for the dongle, then you will have to run the web version of netflix using "Desktop Manager" to install it.The advantage of the dongle I also believe is better motion, as the you're offloading that processing from the projector and can use weak motion smoothing on the projector settings, rather than medium for better quality.If you are controlling the dongle with the remote, pressing the gear symbol on the remote will take you to the projector settings, not dongle settings...then you simply change source back to the dongle.AN IMPORTANT TIP: if you have smart plugs and other devices that use the 2.4 GHz band and your router is serving both 2.4 and 5GHz...give each band different passwords! This will prevent the projector and/or dongle from using the must slower 2.4, if the signal is not very strong. My router is on the ground floor and I am in the opposite end of the house on the 2nd floor (signal says fair). By doing this, I'm guaranteed to get over 111mbps, with no fall back to the much slower 2.4 GHz. Update: I now have a mesh system installed for WiFi and things are even better.It's LED and DLP, very colour accurate and I like DLP because of the extremely good 3D capability, plus the fully enclosed light path, so not dust concerned. Just keep the grills vacuumed once per month, especially if you have a cat. This keeps it running nice n cool.This is not a paid or shill review, get it, you will absolutely not be disappointed. Amazing projector.
Brilliant Projector
I am continually blown away with the picture quality of the projector. When you watch a film on this it is just like being at the cinema. The detail is stunning with every hair and pore on someone's skin as clear as in real life. I can't see how a more expensive machine could do much better. The sound is great from the built in speakers but I've got mine connected to a surround sound system and it's amazing . Set up is a doddle with auto keystone and auto focus. The only little niggle is Netflix doesn't work from the projector some sort of license issue I think but my blue Ray player has Netflix so I play it through that or you could use a firestick. All in all amazing
Horizon 4k pro
Absolutely amazing. Can't fault it